Todd in center[with shades] and the
other members of Crash 7
Todd Rawls a g.g.gr.son of Henry H. and son of Bobby.
Todd is the drummer in the band
Crash 7.


Zack & Clarsey's Kids, and Henry H.'s grt.gr.kids.
Willis, Richard, Harold, Bobby Ray
Carolyn Sue, Hedy, Dalephine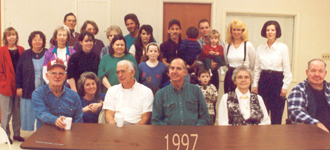 WOW ! more cousins. A Rawls Get-together 1997.